​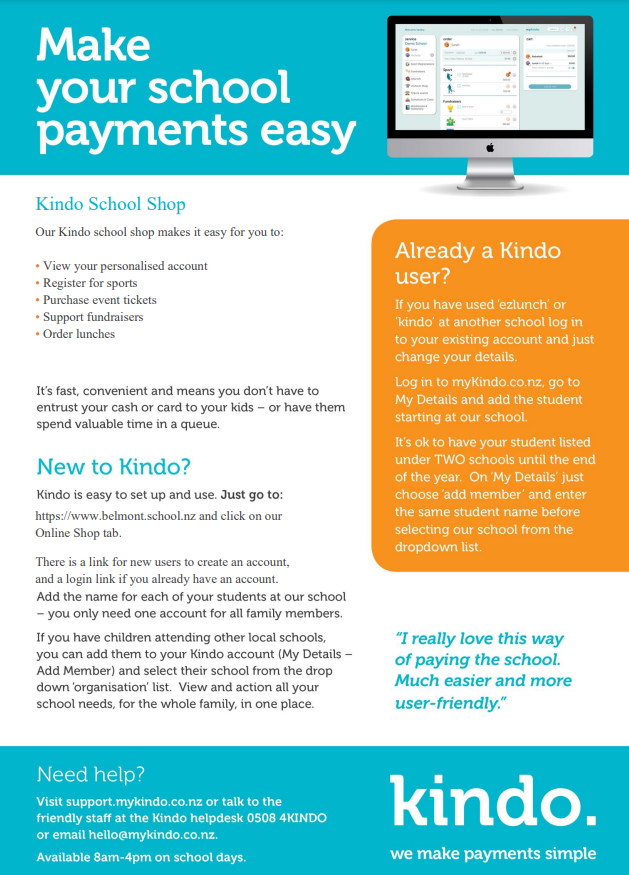 Working together with Kindo and ezlunch, our School offers you a simple and quick way to view and pay for school items, order lunches, support fundraisers, purchase event tickets and complete registration and permission forms.
This is our preferred method of payment, and we encourage you to set-up your myKindo account today.
Payment options: Internet banking, instant transfers, and credit card options available.
Visit support.mykindo.co.nz for more information on payment options.
Online Tutorial:
Click here
for a short tutorial on how to use Kindo. Our school
uniform is NOT
sold through Kindo. Please see our uniform shop
HERE
.
​
myKindo app:
Search "
myKindo
" app on Google Play or the App store to download.
---
Ezlunch Orders
ezlunch (easy-lunch) take your school lunch orders through their website until 9am on Friday only and deliver it to our school at lunchtime. There's a full range of freshly made hot and cold meals, snacks and drinks, made by fresh food caterers Go-Deli and Pita Pit Takapuna. Their food is great! Click Online Shop above to order now.
If you have any queries, call the Helpdesk 8am-4pm school days, on 0800 EZLUNCH (or 09-475 5287 if calling from Auckland or mobile) or email helpdesk@ezlunch.co.nz.
---
Pita Pit
Available on Friday only. Order by 9am